Ministry of Sports announces launching of Player Support Fund sponsored by EPFA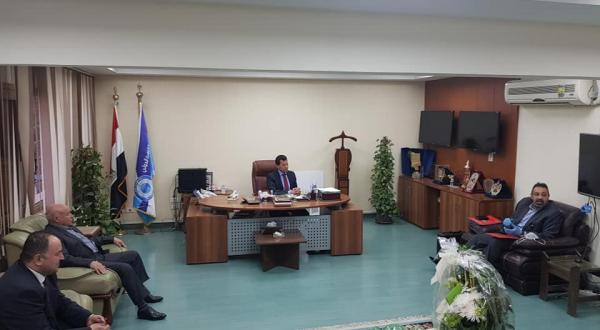 Ministry of Sports announces launching of Player Support Fund sponsored by EPFA
Ministry of Sports announces launching of Player Support Fund sponsored by EPFA
Presided by Mr. Magdy Abdelghani, and in presence of Mr. Salah Abdelfattah, EPFA Treasurer, delegation of the Egyptian Professional Footballers' Association (EFPA) met with Dr. Ashraf Soby, Minister of Sports, to discuss the Ministry's plans for support of players and easing the suffering of those directly affected by the consequences of COVID-19. The meeting results were very fruitful and largely serve the players' interest, in addition to alleviation of the financial burdens of clubs as a result of suspension of sports activity in Egypt. 

After EPFA officials took cognizance of the plans of the Ministry of Sports for management of the financial crisis that inflicted all components of the game, EPFA decided to allocated EGP 850,000 to be distributed to the players of second and third division leagues, and some clubs of the fourth division league. EPFA undertook to allocate EGP 150,000 to Tahya Misr Fund.
Composition of committee that consists of Mr. Magdy Abdelghani as EPFA chairman; Mr. Amr Al Ganayni as Chairman of the Transitional Commission of the Egyptian Football Association (EFA); Dr. Ahmed Al Sheikh, Head of the Central Department of the Office of the Ministry of Sports; and Maj. Gen. Abdelmonem Al Hajj, Chairman of the Former Players' Association was agreed for determination of terms of providing financial support to the affected players.

The meeting that was this evening at the office of H.E. Minister of Sports was attended by Mr. Magdy Abdelghani, EPFA President; Mr. Salah Abdelfattah, EPFA Treasurer; Mr. Mohamed Hany, Administrative Director; and Mr. Mohamed Hassan, Media Officer. Mr. Magdy stressed on the necessity of social solidarity more than any time before to overcome the crisis with least losses. The Minister applauded the effective role of EPFA to support players in particular and football in general.