Fifth training camp of professional players launched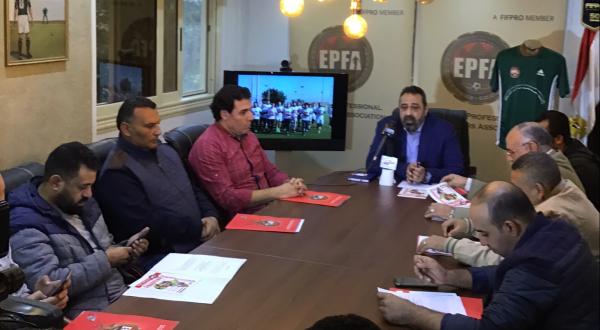 EPFA is still fighting players unemployment
In the course of its endeavors, the Egyptian Professional Footballers' Association (EPFA), presided over by Mr. Magdy Abdelghani, announced launching of fifth training camp of non-registered players during the period from 12 to 27 December in Al Assiouty Sport Resort.
Mr. Magdy Abdelghani announced that this camp is the fifth in row and comes as support of EPFA to non-registered Egyptian players to find new contracts for them.
EPFA gathers those players and organizes closed training camp for 15 days with full board throughout the period of the camp and provides technical and medical staff to the camp, and organizes friendly matches with clubs. Mr. Abu El Einein Shehata was chosen as technical director of the camp beside the supporting staff.
The camp is supervised by Mr. Hamza Abdelwahab, EPFA Player Status Manager; and Mohamed Turky, EPFA Media Coordinator.
It is noteworthy that EPFA in previous camps marketed number of players, including Islam Serri, Player of Semouha and Talaie Al Geish; Hamada El Sayed, Player of Aswan; Mahmoud Koko, goalkeeper of Al Ragaa; Islam Seyam, Player of Al Assiouty; Ahmed Maher, former player of Zamalek and Al Ittehad; Amir Azmy, before professionalization in Greece; Karim Adel and Mustafa Mushir, Player of Talaie Al Geish; Youssef Bibo who professionalized in Zat Al Ras Club in Jordanian League and presently players for Haras Al Hodoud; Ahmed Hamdy, Goalkeeper of Al Nasr Mining; and Islam Adel, player of Al Maqassa, Degla and Haras Al Hudoud.